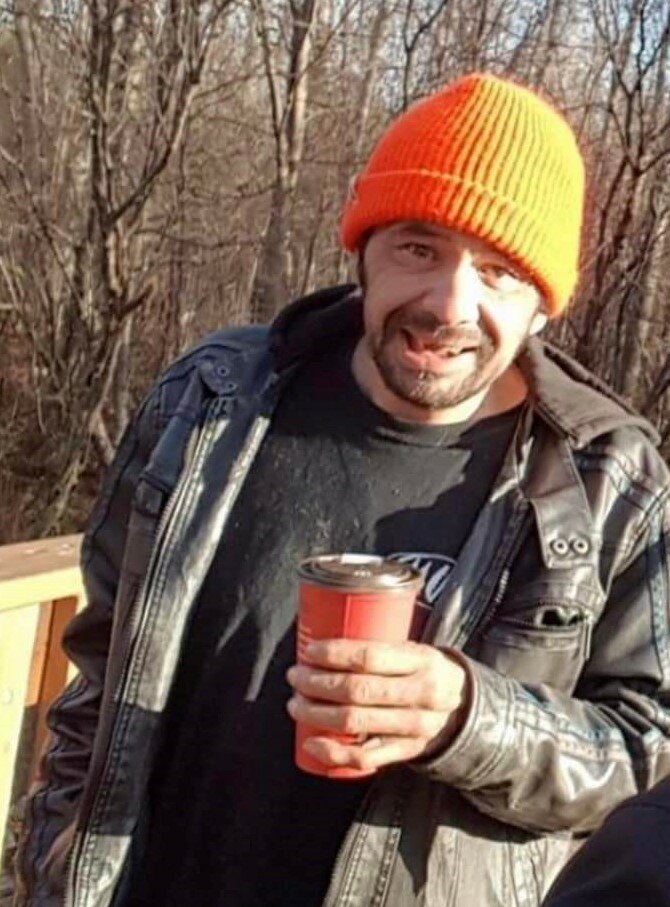 Obituary of John Allan Bernard
Please share a memory of John to include in a keepsake book for family and friends.
Bernard, John Allen "John John" We'koqma'q First Nation Age 56. It is with great sadness that we announce the death of our beloved father, grandfather, son, brother, uncle, godfather, cousin and friend on Tuesday, March 28, 2023 at home.
Born in Boston, Mass on August 28, 1966, "John John" filled the world with his genuine kindness. Being humble is what taught us all. If anyone lived their life from their heart, it was him. His heart and his big contagious smile lit the skies and now it lights the heavens.
They say that children know character and can determine who is good person. To say that all children loved "John John" is an understatement. His teasing nature and comical moments were so genuine and that made all children adore him and to gravitate towards him. Always a jokester with humor laced with huge doses of sarcasm, he was cracking jokes and teasing right to the end.
John was a self-taught mechanic. Throughout the years, you could find him under hoods of many cars. Now, how many of those cars moved afterward is unknown. Over the last few years, his adoration and his heart grew even bigger when his grandchildren were born. Each child, so special to him. The most important life lesson that he left was to love from your heart and to let that love reach your smile and eyes. Our eyes are the windows to our soul. John John's eyes now light the heavens with their brightness. Another valuable lesson, to stand up for yourself. Protect each other as family. To our Protector, Thank you.
Blessed to be raised by uncles who were also brothers, aunts who were sisters, parents who were grandparents and a very strong Mom. "John John" was shaped and defined by a very strong loving family. A family that held traditional beliefs and stood up to centralization. He carried the strength, power, resilience and the love of family to heart.
"John John" you are going to be missed. Your kind, gentle, sweet, strong and loving ways, your humbleness will never be forgotten. As stories are passed from generation to the next, your story will be shared by us all.
"John John" is survived by his wife and the mother of his children, Carol Bernard, daughters; Bianca (Tony), Monica Lorraine, son; Dwayne (Shawna), grandchildren; Hazlee, Caroliya, Ansalewit, Antle, Jerrica, Harmony, Sherman, Joseph, Cavery and Javon.
They say seven godchildren will enter you into heaven, John John's godchildren were blessed, they are Ginny, Darian, Seven, Allison, Ashley, Jada, Nigel, Jerome, Jalen, Colton, Emmy and Heaven.
Also survived by his strong Pulnal family, his mother, Julena; sisters, Mona (Alonso), Gina (Maynard), Madonna, Ducy (Bob) and his brother, John Wayne. To greet him in heaven were his Momma;, Annie Mae Bernard and Dadda; Charlie Bernard; his father, Walter DeVoe, sister, Nicolita Bernard, brothers, Frederick (Lorraine), Lawrence (Lena), Walter, Alan (Juliana), Chuckie (Madeline), Peter "Seven", Carl David.
To his many friends, thank you for loving him as much as you all did! A very special thank you to the We'koqma'q Health Centre. The care and support you gave him was so special. To Dr. Ritter, Cape Breton Regional and Inverness Hospitals, Thank you. To Alphonse, Coady, Silipai, who cared for him, Thank you.
Visitation will be after 4pm on Monday, April 3 at the family residence 17 Muin Road, We'koqma'q. Funeral mass will be held at 10am on Wednesday, April 5 from Blessed St. Katari Holy Trinity Roman Catholic Church, We'koqma'q with Father Joby Augustin officiating. Burial to follow in the parish cemetery.
Arrangements are under the care and direction of Dennis Haverstock Funeral Chapel, Whycocomagh.
To plant a beautiful memorial tree in memory of John Bernard, please visit our Tree Store
Share Your Memory of
John