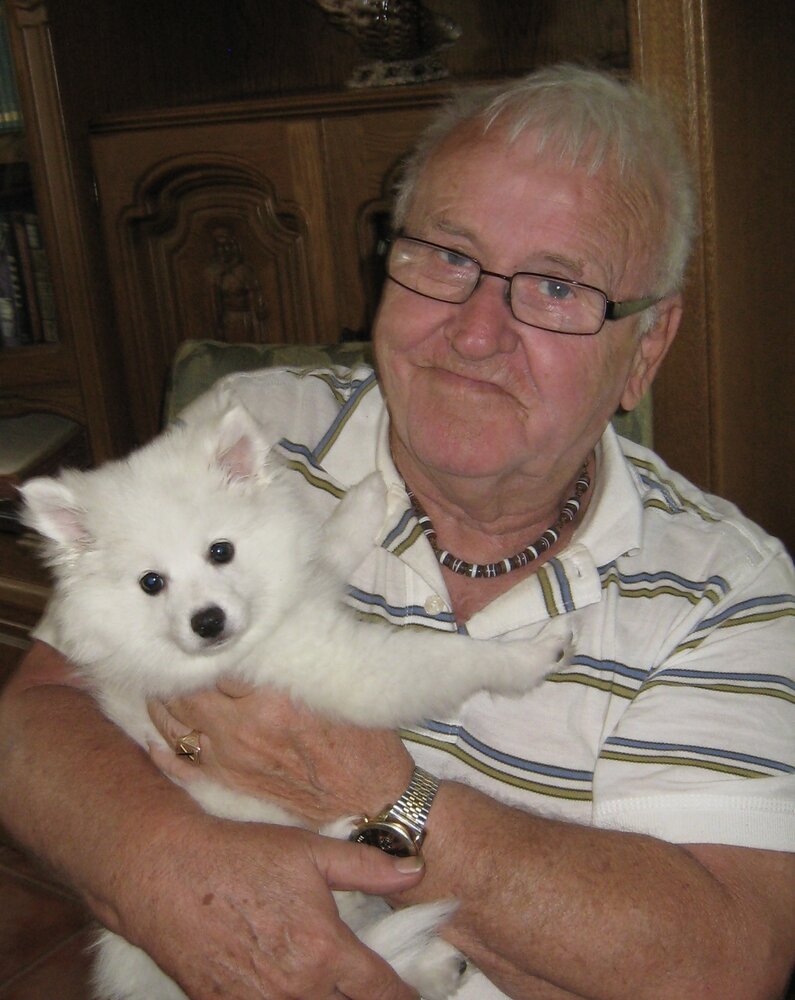 Obituary
Please share a memory of Edgar to include in a keepsake book for family and friends.
With profound sadness, we announce the passing of Edgar Burke Fraser of Antigonish, on Friday, February 24th, 2023, at his Home in Baddeck Cape Breton, at age 78. Only the fortunate few were blessed to be loved so fiercely by ED!
Edgar was the son of the late Zephaneah "Gerry" and Zita "Mary" (Burke) Fraser. Surviving are his wife, Marie "Bernadette" (Sampson) Fraser; daughters, Tonya Fraser and Cathy MacDonald of Antigonish and Eirinn Fraser (Dallas Lewis) Orangedale; dearly loved grandchildren, Tyler (Jane Nickerson); Gavin (Ester-Ruth Teel) Fraser, Dylan (Molly Crosby) MacDonald, Codey MacDonald and Kayla (Kyle Melong) MacDonald. He predeceased his beloved pets, Little Bear and Billy Joe and grand fur babies, Sarah, Nicolas, Rugrat, Sebastian, Coco and Max. Surviving is Nanuq, Nikita, Zoey, Nuttah, Kottah, Teddy, Pickles, Pippa, Daisy Duke, Bea and Benjis, and the baby Smokey. Besides his parents, Edgar was predeceased by his sisters, Gloria, Joyce, and Barbara; brothers, Robert, Nelson, Bazil and Gerald; And his Uncle Finn and Aunt Norma Burke. He was the baby and the last surviving member of his siblings. Surviving is his sister-in-law, Mary Fraser (Menzies). In addition, he had several nephews and many nieces that he loved.
His greatest treasure was his family. His amigo/wife and he were connected at the hip and always in celebration of life; his three daughters, whom he adored; five grandchildren who could do no wrong and best friend and son-in-law. He loved each in their way, was very proud of who they became and their accomplishments, and wanted them to reach their full potential and live happily ever after.
Born in Sydney, Cape Breton, he grew up in Causeway Estates and spent his adolescence on George Street in the Queen Anne House, where he had the most exciting stories of its history and prior owners. Edgar went to Xavier College and St. Francis Xavier University (STFX), where he lived at Bishop Hall: Burke and Plessis and later MacIsaac Hall. He graduated with a BBA and B.Ed, received his Teacher's Certificate from the Province of Nova Scotia, and became a teacher and principal of High School. He loved to teach and loved his students even more, which was seen by the mutual respect and friendships they developed. His educational career took him to Sydney, Port Hawkesbury, Thorburn, Antigonish and the NSCC in Halifax. "Go West, young man." He travelled to Northern Saskatchewan and developed lifelong and cherished friendships—teaching in Sturgeon Lake, Beauval, La Loche, and Leader. He was forever grateful to be welcomed into the community and for the knowledge, wisdom and love he received from the Cree People. Home is where you roam, and he called the west his home for many years and carried the heartache for the pain and suffering inflicted on this Nation's First People. He believed strongly in their rights and worked to enable his students to reach for the stars and to embrace their heritage with pride. ED recalled stories with tears in his eyes; It was joyous to return for visits. People filled the Fraser's home on the weekends, and every holiday was celebrated with food, music and laughter. His family would settle in Antigonish County, where he taught and later operated a financial services company where tax season would steal him away in his office. Later in life, he devoted time to establishing support groups and programming for people with mental illness and addictions.
His ancestors fought in the Battle of Culloden, and he was a Fraser of Lovet. They travelled aboard the Hector to Nova Scotia in 1773. Edgar would return to Pictou on the 250th Anniversary of their voyage for cremation. His family settled in Cape Breton (Île du Cap-Breton, Unama'ki, Eilean Cheap Bhreatainn). The island he took everywhere with him, no matter where he roamed. The Men of the Deeps, Rita MacNeil, John Allen Cameron and Stan Rogers, were a constant on the many journeys home to the Island from Saskatchewan, where a big pond concert and a trip to the Fortress of Louisbourg was always a tradition in the 70s and 80s. Every voyage was carefully planned, with stops at historical places of relevance always taking a different route.
He was thirteen when Elvis Presley's first track hit number one, changing the course of Music and ED's adolescence. The 50s music moved his feet, and Willie and Waylon brought him to contemplation. He loved to dance and found a fondness for Swing, Boogie-Woogie, Bop and later Salsa, and he pulled out all the moves. Golfing was his happy place; he always took advantage of every opportunity to swing the club. On trips across this great country and beyond, there was always time for a round on a new course. Edgar enjoyed photography in his younger years, and his art appreciation never ceased. Dear friends, a game of chess or crib and a good hockey game pleased him. His door was always open; his food, bed, last rum & coke, and ear were yours. He never threw advice; he guided you to make your conclusion. He enjoyed the science of this universe and its inhabitants with a particular fascination for Egyptians, Mayans, Aztecs, and the First Nations of Canada. He was knowledgeable of history, physics, mathematics and the mysteries and magic of the nature of life—he held the keys to the universe!
If he wasn't moving into a new house, building or renovating his house, he was redecorating it. Boy, he loved tools; Central Supplies and Canadian Tire were his candy store. A fresh coat of paint or new wallpaper was a must when Christmas approached. He enjoyed the holiday immensely, having his family in one room and the lights that lit the way. Several homes had pools, and he would install a pool table or anything else to entice his children and grandchildren to visit. He enjoyed watching and participating in their happiness and lives immensely. The Venice, Wongs, and Mother Webb's, a good steak cooked to perfection and smothered in mushrooms, were his favourites, and a glass of chocolate milk, sour gummies, and a pepperoni stick was just a little behind. Many a memory made with a bucket of KFC and a Wheel pizza was always a given. Coconut cream pie was by far number one. He enjoyed days at the Bauer theatre with his beloved wife, concerts and movies at the drive-in. In 2014, Edgar found Cuba and his heart was stolen away by the beautiful people. He immediately bonded with several Cubans and found himself there numerous times afterwards, always dreaming of the next voyage to see them again. An antique shop or a yard sale had to have a quick stop. It was always a good day when a treasure was in hand.
ED was, first and foremost, FUN and not just a little; he was the life of the party! You were guaranteed to be amused when hangin' with him. He and his best bud would have many a game of cards and billiards, too many to count, late-night swims in the pool and unknown waters. There were many road trips, fishing, camping, and hotel jumping and discovering what led ahead. He was always the king of the road and the leader of the pack. Fearless and adventurous and always willing to try something new, from climbing on hikes to places like Three Pools through Hell Gate, amusement rides and haunted houses, and even venturing into the territory of wolves and sharks. He had no boundaries—a lover of travel and learning the ways of the culture. There was never a fast trip to a museum or gallery. Instead, he would submerge himself, which afforded him special luxuries not bestowed to the public, with access to secret rooms, archives and stories.
Edgar's last few years were spent in beautiful Baddeck overlooking the waterfront from MacLeod House, where he and his wife were tenderly cared for and loved. Covid complicated travel over the past few years; however, special trips were made to accommodate, and facetime became a norm. A road trip with the four American Eskimos to Whitepoint was a great joy as he would see his family in Antigonish going and coming. Edgar's family would like to thank Dr. Glenn Gallivan, Lindsay, MacLeod House, Victoria County Home Support, Continuing Care Nursing, EHS and the Baddeck and Inverness Hospital.
Enlightened and deeply spiritual, he was wise to the world's ways. The elderly, those suffering and in need, children and animals gravitated towards ED's shining bright light that could be felt and seen in even the darkest rooms. His extraordinary blue eyes were windows into his beautiful soul, his compassion transcended time, and his ominous energy brought comfort to many and great joy to his sensitive heart. From young to old, he attracted many and was always grateful for the friendships and a good laugh. He was not ready to leave; many more adventures were coming. We love you, Papa and Dad, to the infinite greater beyond and back, now, always, and forever. How blessed we are to have shared our lives and been loved by you! Edgar Burke Fraser was a gentleman, a loving husband, father, grandfather, friend, philosopher, poet and lover. He was a constant teacher that guided many to find truth in themselves and brought joy to numerous others by being his selfless and wondrous self. He was a man of the people and has left a mark on this world that can never dissipate. We will carry your memory throughout all our days and live life in your reflection and to the fullest!
At Edgar's request, there will be no visitation. ED's Celebration of Life will be held at the John Paul Centre in Antigonish on April 2nd, 2023, at 1:30 p.m. Words of comfort may be sent to the family at www.haverstocks.com or by e-mail at bandefraser (@) gmail.com
Read More
Events
Sunday, April 2, 2023
1:30 pm
John Paul Centre
Main Street
Antigonish, Nova Scotia, Canada
Celebration of Life
Online Memory & Photo Sharing Event
About this Event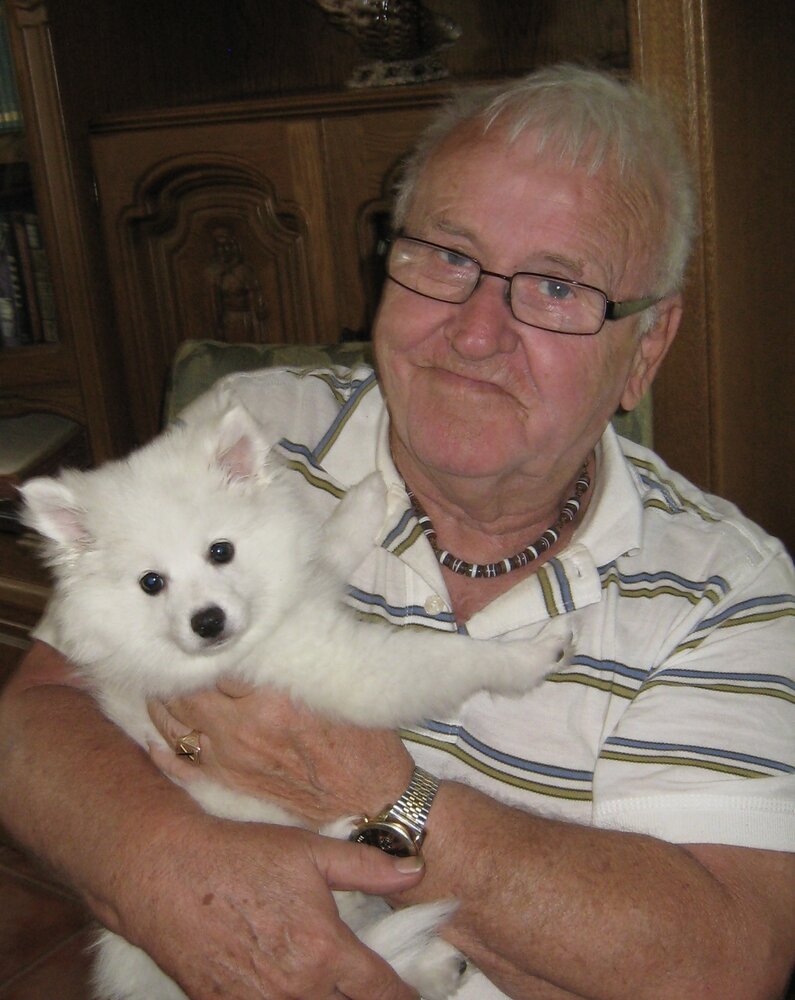 In Loving Memory
Edgar Fraser
1945 - 2023
Look inside to read what others have shared
Family and friends are coming together online to create a special keepsake. Every memory left on the online obituary will be automatically included in this book.